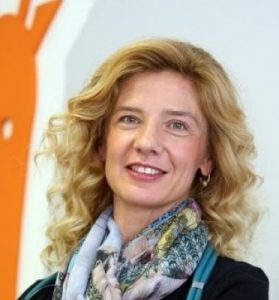 Iva Palčić,
MD
Pediatrician, pediatric nephrologist, Head of General pediatric and Day Care Unit
Iva Palčić graduated from School of Medicine, University of Zagreb. She completed pediatric residency training as well as pediatriac nephrology fellowship at Children's Hospital Zagreb where she worked for 15 years. She was trained also at Cinncinati Children's hospital (USA) and learned from leading experts in the field of pediatric nephrology, ultrasound and general pediatrics in Croatia and abroad. In 2013. dr Palčić joined Clinic for pediatric medicine Helena where she became the Head of General pediatric and Day care Unit. She provides all preventive health care activities – regular check-ups, vaccinations, hip sonography. She learned hip sonography from professor Reinhard Graf who developed the method of ultrasound classification of developmental dysplasia of the hip (DDH). Dr Palčić also provides treatment for children with acute illnesses, parenteral rehydration treatment, intravenous and intramuscular therapy, all chronic and acute health issues; plans and implements medical care programs for physical and mental growth of infants and children. Along with general pediatric medicine, she has interest and more than 10 years of experience in the field of pediatric nephrology with a special emphasis on children with urinary tract infections and anomalies, voiding disorders and glomerular diseases. She is a member of Croatian Medical Chamber; Croatian Medical Association; Croatian Pediatric Society and Croatian Society for Pediatric Nephrology.
She has been invited as a lecturer to numerous expert and scientific congresses and courses, both in Croatia and abroad.
Fields of
interest
ANOMALIES OF THE URINARY TRACT
VOIDING DYSFUNCTION IN CHILDREN
NEPHROTIC SYNDROME AND OTHER GLOMERULAR DISEASE
general pediatrics (regular check-ups, vaccination, acutely sick children, hip sonography